Auto-pilots
are taboo in virtual regattas.
People feel the game will loose if too much automation
creeps in. Still there are times we wish boats had a
little intelligence of their own.
Going hours with the wrong sail?
Or getting stuck against the wind during the night?
Can a Captn get a decent sleep???
Enter Boat Script. BS is a script system designed to facilitate
monitoring and controlling boats
in vrtool
.
It uses JavaScript, a powerful and popular script language.
Only vrtool's own sandbox boats can be controlled (course/sail).
Other boats can be monitored. Scripts always run in the client machine.
Running untrusted scripts (like web browsers do) is tricky.
The following illustrates a simple Boat Script:
Event OnNewPosition() is fired when a new point is
added to boat track (a 10 min tick)
What this script does?
1- Sets boat course to the best course to destination (best velocity made good)
2- Selects the best sail for that course
3- Uses Commit() to send the control action to the server (if course and/or sail changed)
Only 5 lines, yet pretty efficient. It will even enter zig-zag mode as needed (see image below)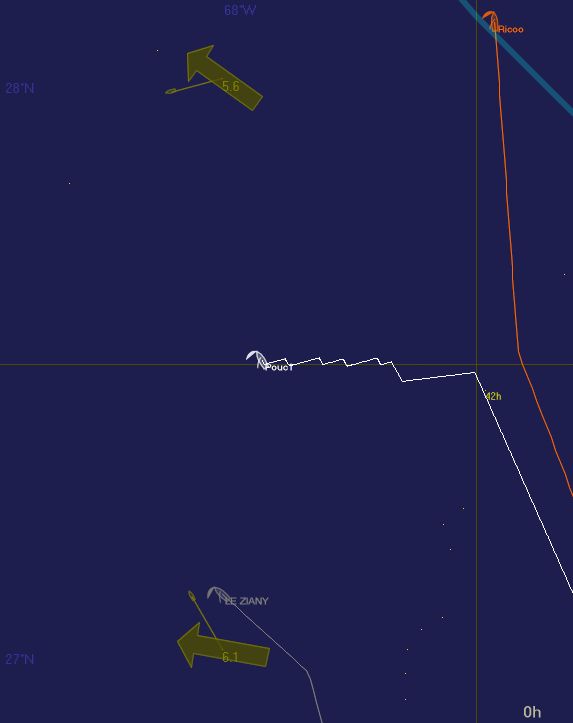 The full BoatScript interface is below:
Control Parameters (read/write):
Boat data properties (read only):
Query other boats:
Script logging:
Events:
// the texts after two slashes are comments (not necessary to run the script)

Notes: * All distances and directions calculated with great circle formulas
* South latitudes and East longitudes are negative
Script examples:
corkscrew route:
Follow a boat (either local or VR)
Print VMC table:
Installation
BoatScript is available in version 1.97c (zip)
link:
http://www.tecepe.com.br/nav/vrtool/vrtool.zip
md5: 213583286F3351A5D95013493E4A2F13
Some sample scripts included (search for bs_*.js)
Users with versions older than 1.97b should use the full installer first,
then unzip the latest 1.97c
Usage
Use BoatScript panel in Remote Boat control window, as illustrated below.
Important:
Remember to
save
the script.
I use files named
bs_

scriptname

.js
Scripts are saved as external .js files, not embedded in the desktop.
So any change must be saved to the script file to remain persistent.